One great thing about Pairpoint lamp bases is that they are almost always marked and numbered.  In fact, if you have a base that isn't marked, then I would be highly skeptical as to whether or not it was the original lamp base.  There are reference books that list several hundred different Pairpoint base styles and numbers.  We have 321 different base style numbers on our Pairpoint base master list.
Despite being hundreds of base numbers, there are really only a handful of Pairpoint base styles.  We have included five images below to show the types you are likely to encounter.  The styles we don't show are similar to the bases below, except that they will incorporate marble or crystal.
Metal Bases on Pairpoint Lamps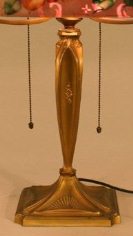 Close to 80% of Pairpoint lamps will have a base similar to the own shown above.  They are usually made of brass.  Some have a reflective silver patina, but most will be simple and understated.  There can be scrolling or other decoration on the base, but don't expect too much.
Painted Base to Match the Shade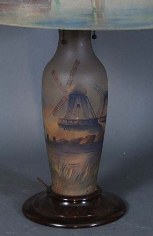 Some Pairpoint lamp bases are an extension of the shade design.  The artists simply decorated base in the same theme as the shade.
Decorative Sculpted Pairpoint Base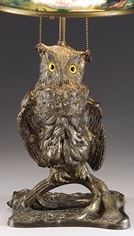 The picture above has to be the most unique original Pairpoint lamp base.  It was made specifically to go with the puffy owl lamp shades.  Bases that are this detailed and special are only used with Pairpoint shades that are already valuable.
Pairpoint Art Glass Base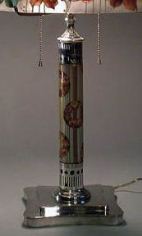 You will occasionally see a glass base that matches the design of the original Pairpoint shade.  Only a handful of lamps were made like this.
Pairpoint Base with Candles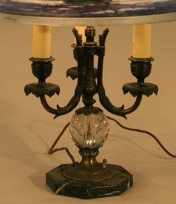 Many Pairpoint bases used a candlestick base.  They could have three or two candles.